Your Listener's Friends
What does your listener actually say about you to friends?
In 2016, Finney Media set out to answer that question, and with the help of numerous radio stations, networks and program ministries, found more than 23,000 people willing to candidly share.
A summary result of what your listener thinks about you was created in the Net Promoter Score. The NPS is this tough formula: Answering this question, "If 1=highly unlikely and 10= very likely, how likely are you to recommend the Christian radio station or program that sent you this survey to a friend or family member? The Net Promoter Score is derived from the total percentage of 9's and 10's minus the total percentage of 1's through 6's. Whew. That's a tough measure!
Well, from listeners who chose the Format they prefer to listen to most*, we got this astonishing information: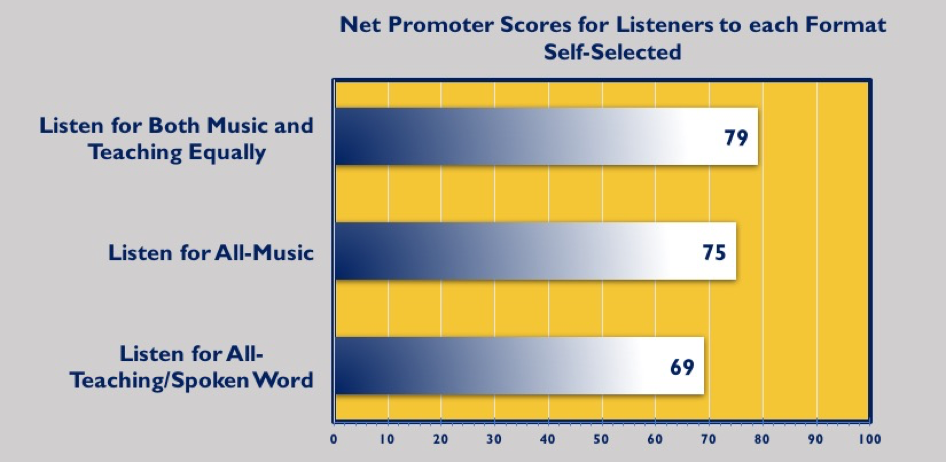 Today, as you work to expand and deepen your ministry impact, you have another opportunity to listen to your listener—and at a low cost, now even more affordable with a limited time special offer! Right now, the first 25 to sign up will receive a $100 rebate on top of the already discounted special price for CMB and NRB members and Advocace and Finney Media clients.
One of the things we'll look for is trending on the Net Promoter Score. Of course, if you are joining for the first time, you'll be able to compare and contrast your own individualized score with the national score.
We listened to your requests for even more listener insight. The result—deeper questioning in areas of high interest. You should know that the 2018 Why Listen™ Survey will delve deep into the minds of your listeners and will explore the Net Promoter Score and many additional areas. Read last week's blog Inside Your Listener's Head and Heart.
We suggest that now is the time to look over the form on finneymedia.com/whylisten, to pray and to sign up.
The survey distribution begins on a set schedule in January 2018. The first 25 survey sign ups, however, will be taken in the next days. Your listener has a lot to say—to you and to her friends!
For more information, contact Chuck Finney at Chuck@finneymedia.com or 214.676.7713 or Jan Shober at Jan@finneymedia.com or 719-331-6482.
*More information like this will be available in the upcoming whitepaper: Christian Radio, I Choose You Because…! The Reasons Behind Specific Format Choice
SaveSave