Momentum Presentation 2016
HERE ARE THE HEADLINES RELEASED DURING MOMENTUM.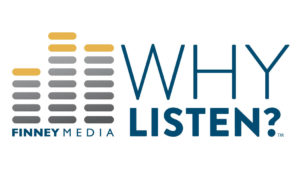 Finney Media Why Listen?™  Survey – Why Your Listener Listens
Here is the headline card from the CMB Presentation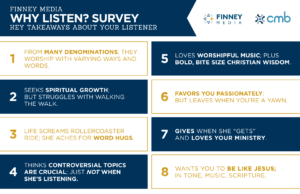 Your Listener
#1        From many denominations; they worship with varying ways and words.
#2        Seeks spiritual growth; but struggles with walking the walk.
#3        Life screams rollercoaster ride; she aches for word hugs.
#4        Thinks controversial topics are crucial; just not when she's listening.
#5        Loves worshipful music; plus bold, bite size Christian wisdom.
#6        Favors you passionately; but leaves when you're a yawn.
#7        Gives when she "gets" and loves your ministry.
#8        Wants you to be like Jesus; in tone, music, Scripture.